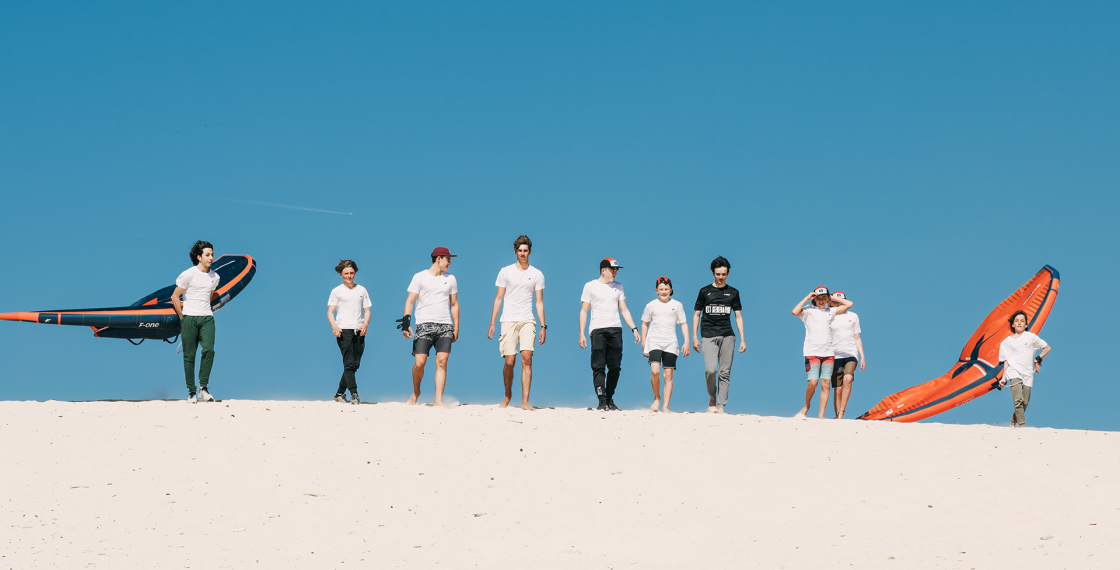 F-ONE's 2022 Next Generation camp in Tarifa was nothing short of exceptional. 
This first-ever wing foil edition was filled with fantastic sessions and stoke on the water, a great deal of learning and growth, and of course daily laughter and fun between our 10 groms and the coaches.
Some of our coaching staff was no stranger to F-ONE's Next Generation camps. Originally launched in 2013, the initiative has helped kick-start the careers of more than 30 young kitesurfers. It all came full circle for Nicolas Delmas and Maxime Chabloz as they returned to their old stomping grounds.
Nicolas, a three-time Next Generation alum and now coach of the French youth national team, led this year's camp and most training sessions. Maxime is another three-time Next Generation athlete, but also three-time kiteboarding freestyle junior World Champion and more recently winner of the skiing Freeride World Tour. 
They both went on to stellar professional careers and were delighted to coach the next generation of wing foilers. They were also joined by 2021 World Freestyle Champion Titouan Galea and Mallory de la Villemarqué, GWA Wingfoil World Tour head judge.
Groms
10 young wing foilers from around the world aged between 12 and 17 headed to Tarifa in late February to train together, improve, and share the stoke of wing foiling. 
The team included: 
Ezio Bastianelli,12, France – @eziobastia
Noé Cuyala, 14, France – @noecorsica
Leewho Gabrieli, 16, Israel – @leewhogabriel
Petros Kontarinis, 15, Greece – @petroskontarinis
Christopher MacDonald, 15, USA – @chris.mcdddd
Samuel Mendez, 15, Spain – @samuelmendezs
Morgan Ostermann, 14, USA – @morgan.ostermann
Jake Rankin, 17, South Africa – @snoobabz
Leon Schiel, 12, Great Britain – @leon_rockz
Luca Vuillermet, 13, USA – @lucav000
Camp
For one week, they discovered what it took to become a professional rider, with workshops and coaching sessions in and out of the water. 
From conditioning to landing new tricks and attending workshops on a wide range of topics, they spent each day immersed in the universe of their favorite sport and everything that revolves around it.
They also learned about social media management and personal branding, nutrition, the rules of competition, or what a photoshoot looked like with a professional photographer.
Gear
Did you know we offer wing foiling boards specifically geared at Next Generation riders?  Our ROCKET WING-S is available in 3'6 and 3'10.
The ESCAPE hydrofoil is also ideal for younger and more lightweight yet advanced riders.
What's next?
The sky is the limit for our Next Generation riders. 
Make sure to check them out and cheer them on at the first leg of the GWA Wingfoil Youth World Cup in Oliva, Spain, from June 23 – 26. All of them will compete in the surf-freestyle and surf-slalom events and will again be coached by Nicolas.